DAY 1. Arrive to Tbilisi airport, transfer and overnight in hotel Tbilisi
DAY 2. From Tbilisi - Vadzia - Akhaltsikhe(Synagogue) - Bakuriani. Overnight in hotel Bakuriani
Vardzia is a rock-hewn complex on the left bank of the river Mtkvari was founded in the 12th -13th c.c., during the reign of Giorgi III and Queen Tamar. Initially planned as a town-fortress, the complex became a well fortified monastery, which had a significant role in political, cultural, educational and spiritual life of the country. In the middle of the complex there is a Church of Assumption, richly decorated with mural painting. Afterwards drive to Akhaltsikhe , visit old synagogue in Akhaltsikhe and newly rebiult the Rabat Castle.Dinner and overnight in Bakuriani.
BAKURIANI - IMPORTANT INFORMATION

Area

54 km2

Population

2,400

Highest elevation

2,200 meters (7,216 feet)

Lowest elevation

1,700 meters (5,576 feet)

Languages

Georgian, English, Russian

WEATHER CONDITIONS

Summer Season: 15 degree Celsius

Winter Season: (-5) - (-7) degree Celsius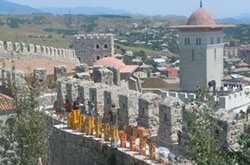 DAY 3. From Bakuriani - Borjomi(park) - Kutaisi - Tskaltubo. Overnight in Tskaltubo
Kutaisi is located along both banks of the Rioni River. The city lies at an elevation of 125–300 metres (410–984 feet) above sea level. To the east and northeast, Kutaisi is bounded by the Northern Imereti Foothills, to the north by the Samgurali Range, and to the west and the south by the Colchis Plain. Kutaisi was the capital of the ancient Kingdom of Colchis. Archeological evidence indicates that the city functioned as the capital of the kingdom of Colchis as early as the second millennium BC. Several historians believe that, in Argonautica, a Greek epic poem about Jason and the Argonauts and their journey to Colchis, author Apollonius Rhodius considered Kutaisi their final destination as well as the residence of King Aeëtes. From 978 to 1122 CE, Kutaisi was the capital of the united Kingdom of Georgia, and from the 15th century until 1810, it was the capital of the Imeretian Kingdom. In 1508, the city was captured by Selim I, who was the son of Bayezid II, the sultan of the Ottoman Empire.Gelati (Georgian: გელათისმონასტერი) is a monastic complex near Kutaisi,Imereti, western Georgia. It contains the Church of the Virgin founded by the King of Georgia David the Builder in 1106, and the 13th-century churches of St George and St Nicholas.
The Gelati Monastery for a long time was one of the main cultural and intellectual centers in Georgia. It had an Academy which employed some of the most celebrated Georgian scientists, theologians and philosophers, many of whom had previously been active at various orthodox monasteries abroad, one of which was the Mangan Academy in Constantinople. Among the scientists were such celebrated scholars as IoanePetritsi and ArsenIkaltoeli.
KUTAISI - IMPORTANT INFORMATION

Area

70 km2

Population

192,500

Highest elevation

300 m (984 ft)

Lowest elevation

125 m (410 ft)

Languages

Georgian, English, Russian

WEATHER CONDITIONS

Summer Season: 28-33 degree Celsius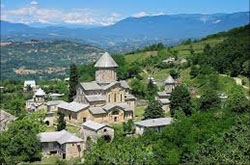 DAY 4. From Tskaltubo - Zugdidi - Mestia. Overnight in Mestia.
After breakfast we will continue our way to Mestia. According to the current administrative subdivision of Georgia, Mestia is located in theSamegrelo-ZemoSvaneti region, some 128 km northeast of the regional capital of Zugdidi. Mestia and the adjoining 132 villages form Mestia District. Its area is 3,044 km²; population – 14,248 .The population is mostly Svans, a cultural and linguistic subgroup of the Georgians.
Historically and ethnographically, Mestia has always been regarded a chief community of Zemo, or Upper Svaneti province. It was formerly known as Seti.Despite its small size, the town let was an important centre of Georgian culture for centuries and contains a number of medieval monuments - churches and forts - included in a list of UNESCO World Heritage Sites. In 1968, it was granted a status of a town let.
The town let is dominated by stone defensive towers of a type seen in Ushguli. A typical Svan fortified dwelling consisted of a tower, an adjacent house and some other household structures encircled by a defensive wall.
Unique icons and manuscripts are kept in Mestia Historical-Ethnographic Museum. Mestia is also a center of mountaineer tourism and alpinism.
MESTIA - IMPORTANT INFORMATION

Area

70 km2

Population

2,600

Highest elevation

1700 m (984 ft)

Lowest elevation

1500 m (410 ft)

Languages

Georgian, English, Russian

WEATHER CONDITIONS

Summer Season: 15-20 degree Celsius

Winter Season: (-5) - (-7) degree Celsius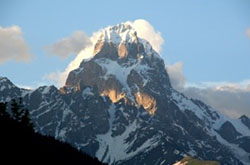 Day 5. From Mestia - Ushguli - Mestia. Overnight in Mestia.
After having breakfast drive to Ushguli.Ushguli or Ushkuli is a community of villages located at the head of the Enguri gorge in Upper Svaneti. The Ushguli villages contain buildings that are part of the UNESCO Heritage site. Typical Svanetian protective towers are found throughout the village. The Ushguli Chapel located on a hilltop near the village dates back to the 12th century. The Mikhail Kalatozov documentary «Salt of Svanetia" was filmed in Ushguli. Visit Zuruldimountain (2400m), museum, soda waters, and haweMestia city tour.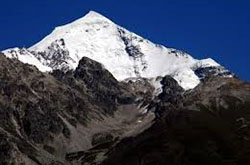 Day 6. From Mestia - Zugdidi - Tskaltubo. Overnight in Tskaltubo.
Aftre breakfast we drive to Kutaisi. On the way visit Latali and Lenjeri single-nave basilicas of the 8th-9th-14th c.c., built by stones without ornamentation, with the interior richly decorated with murals. Afterwards drive to Kutaisi.We can do Kutaisi City Tour. Kutaisi is the second largest city of Georgia in its west part founded about 40 centuries ago, former capital of the west Georgian Kingdom Colchis, to which is related the myth of Golden Fleece and Argonauts. Visiting Bagrati Temple (11th c. UNESCO heritage) and Gelati Monastery (12th c. UNESCO heritage). Visit smaller monastery of Motsameta, spectacularly sited on a cliff-edge. Afterwards drive to visit Sataplia caves (entrance fee is not yet stated, but approximately will be USD 1, 70-2, 30 .Sataplia State Reserve is a most multifarious and very rare monument. It is of complex character and contains geologic, paleontological, speleological and botanical monuments. The Sataplia Mountain is famous by its rarest and the most beautiful caves. This cave was firstly noticed by Kutaisi museum employee, pedagogues P. Chabukiani who was able to make organization of this valuable monument protection by the local government, and in 1933, there was found a dinosaur trace. Sataplia State Nature Reserve was created in 1935 to protect geological, paleontological, speleological and botanical monuments. The reserve is located in Tskaltubo region in 260 km. from Tbilisi, and in 9 km. from the resort Tskaltubo. Sataplia Nature Reserve represents the south-west edge of Racha gorge, total area of the Nature Reserve is 354 ha., 209 ha from here is covered by forest. Relief: Sataplia Nature reserve is mountainous, it's great area is covered by most beautiful and multifarious wood strain Colchian type mixed forests. Mountainous Sataplia is located at 500 m. above sea level. Here we meet 5 carts caves which are famous for their beauty, size and from the scientists' points of view were taken great consideration. One of these karst cavern length is 600 m., the beauty of this cavern is a cupola-shaped hall, located in 100 m. from the entrance, where the size and beauty of stalactites and stalagmites in the centre astonishes visitors. At the end of the cavern flows the spring which flows into the well, after that the water goes on in narrow impassable clefts and finds its way out in the south slope of the Sataplia Mountain as Oghaskura. There is an extinct volcano crater in the Nature Reserve. The highest top is at 520 m. Above sea level. Dinner at the restaurant and overnight in Kutaisi hotel.
Day 7. From Tskaltubo - Gori - Upliscikhe - Ananuri - Pasanauri - Gudauri. Overnight in Gudauri.
After breakfast we drive to Gori. The city was founded by one of the greatest kings of Georgia, David the Builder (1089–1125). On the way visit Samtavisi and 11th century Georgian Orthodox cathedral. The first monastery on this place was founded by the Assyrian missionary Isidore in 572 and later rebuilt in the 10th century. Visit The Joseph Stalin Museum in Gori.Afterwards drive up the famous Georgian Military Highway (leading to the Georgian-Russian border). On the way visit Ananuri architectural complex (17thcentury), the two churches and the fortress overlook the Zhinvali water reservoir. The drive is very scenic through high Caucasus Mountains. Drive to Gudauri. Overnight in Gudauri.
GUDAURI - IMPORTANT INFORMATION

Area

69,7 km2

Population

2,800

Highest elevation

3307 meters (10,375 ft)

Lowest elevation

2,196 meters (6,895 ft)

Languages

Georgian, Russian

WEATHER CONDITIONS

Summer Season: 13 degree Celsius

Winter Season: (-4) - (-8) degree Celsius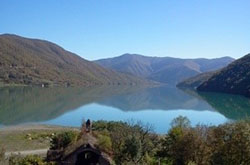 DAY 8. From Gudauri - Kazbegi area - Mtskheta - Tbilisi. Departure.
After breakfast drive to Mtskheta. We visit the ancient capital and religious centre of Georgia – Mtskheta (3000 years old) and see its historical places: Jvari church (6th century) and Svetitskhoveli Cathedral (11th century) where the Robe of Christ is buried. Both Jvari and Svetitskhoveli are UNESCO World Heritage sites. After drive to Tbilis In the morning we will start with Tbilisi city tour, sightseeing tour and tasting festival full of colorful celebration.Tuor the main food market, flea market. We will see Metechi church of Holy Virgin - built in 5th century and rebuilt in 13th century. Royal palace was situated here before moving to Narikala Castle. Metechi is a central-domed church. Visit monument of Mother Georgia .After departure to the airport.
TBILISI - IMPORTANT INFORMATION

Area

726 km2

Population

1,152,500

Highest elevation

770 m (2,526 ft)

Lowest elevation

380 m (1,247 ft)

Languages

Georgian, English, Russian

WEATHER CONDITIONS

Summer Season: 30-38 degree Celsius

Winter Season: (-5) - 3 degree Celsius